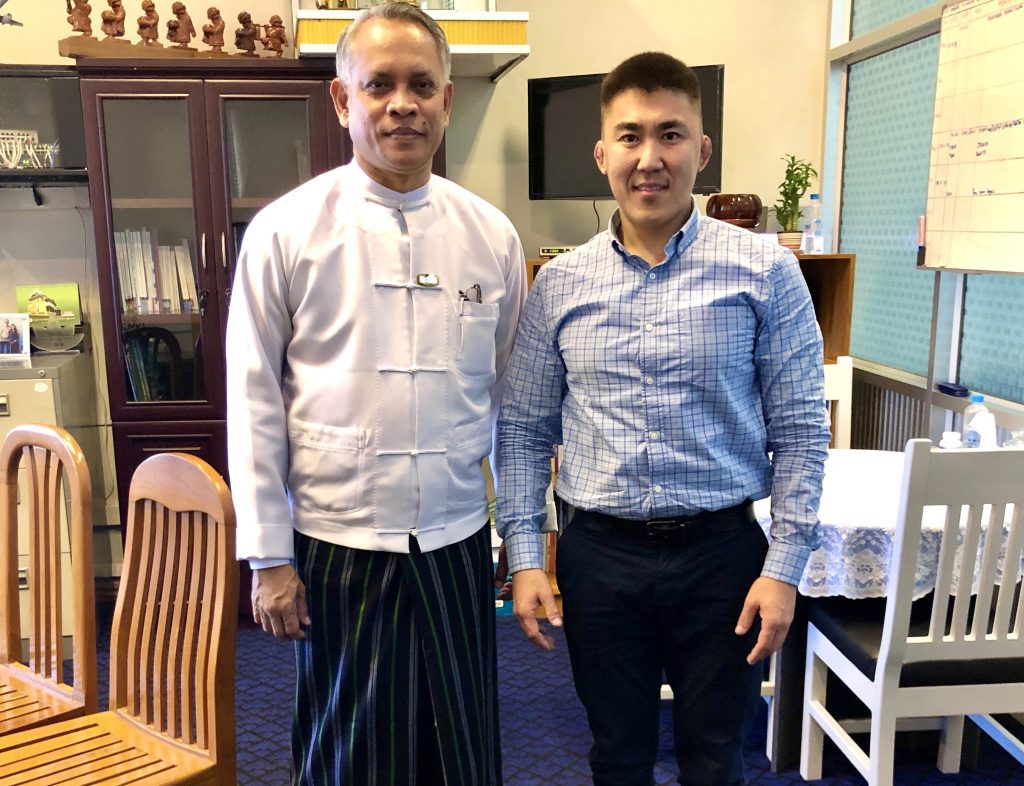 Anton Safronov, Parami Energy's Group COO & Managing Director, met with U Aung Naing Oo, Permanent Secretary of Myanmar's Ministry of Investment and Foreign Economic Relations – MIFER as well as the ministry's Head of Foreign Economic Relations Division, U Than Aung Kyaw.
Safronov updated them on what Parami Energy is doing to contribute to Myanmar's socioeconomic development now and what it intend to focus on moving forward.
NOW: in partnership with the Department of Rural Development Myanmar under the Ministry of Agriculture, Livestock and Irrigation (MOALI), we are approaching the commissioning of a Solar power station to electricity ~1,500 households on the remote Yesagyo Island of Magway Region. We will electrify an additional ~6,500 households using the same renewable technology by the end of 2021 on the same island, which is not included in the national electricity grid extension plan. With 60% of Myanmar's 55 million population not having access to reliable electrical energy today and the government's push to achieve universal access by 2030, Parami Energy will play a major role as the local private sector partner in the implementation of renewable off-grid electrification projects. Besides powering standard residential loads such as lighting, cell phone charging and entertainment electronics, our renewable energy solution will spur local economic growth through energizing larger productive use loads such as refrigeration, water pumping and saws as well as agricultural processing like rice mills and corn shelling. Yesagyo Island—through our recently implemented project—will be able to significantly increase its agricultural output and trade with Magway's fastest growing city in Pakokku located just across the Chindwin River.
FUTURE: We are in renewable energy for the long haul. However, we recognize that natural gas—as the cleanest burning fossil fuel—will play an important role in further expanding Myanmar's economy. With persistent blackouts weighing on economic performance and investor confidence, despite which the country is maintaining a nearly 7% GDP growth per annum, bolstering the gas-fueled power generation capacity and increasing its share in the hydro-dominated fuel mix will be crucial in the years ahead, especially to provide reliable and uninterrupted electric supply to large demand centers such as Yangon Region during the dry season. Parami Gas—with its experience importing seaborne liquefied petroleum gas (LPG) from the global market and distributing it across the country—has developed the necessary expertise to venture into larger scale liquefied natural gas (LNG)-to-Power projects with the ultimate goal of securing reliable and competitively priced energy supply for end consumers in Myanmar. This is why leveraging on existing economic cooperation agreements the Union has with gas producing countries is important to ensure local private companies such as Parami Energy target the right potential counterparts toward securing affordable and reliable LNG supply for the benefit of Burmese people.